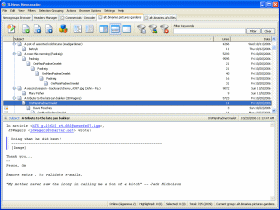 Click here to download the free trial
Download not starting? Try this alternate link.
Still having problems? Use Free Download Manager
to help you with those problematic downloads.
---
All screenshots were taken at a resolution of 940×640 in order to fit on most screens.
System requirements for TLNews Newsreader 2.0:
Windows 2000, Windows XP or Windows Vista.
At least 256 MB of memory.
3.5 MB for installation plus space for storing downloaded data.
Access to a Usenet service. Don't have one? Get a FREE trial on Giganews!
Here are some tips for getting the most out of your evaluation of TLNews:
If you plan to download a lot, make sure you select a disk with enough free space for the data directory when asked during the setup wizard.

If your Usenet provider assigned a username and password to you, make sure you enter them when setting up your Usenet server(s).

Do not cancel or refuse checks when TLNews offers them. You might miss on important information.

When in doubt about the function of a button or tab, hover your mouse over a control and read the tooltips.

Create Organizer Folders and drag & drop newsgroups from the main list into them. They are very useful for keeping newsgroups organized.

Use your right mouse button! Mosts lists and some controls have a right-click (context) menu assigned to them. Right-click on lists to see more options and shortcuts.

Double-click too! You can double-click on newsgroups or messages to perform their default actions, get headers and download article respectively.

Have you run into a problem? We want to know about it! Please contact us and tell us about it. A reply is guaranteed.